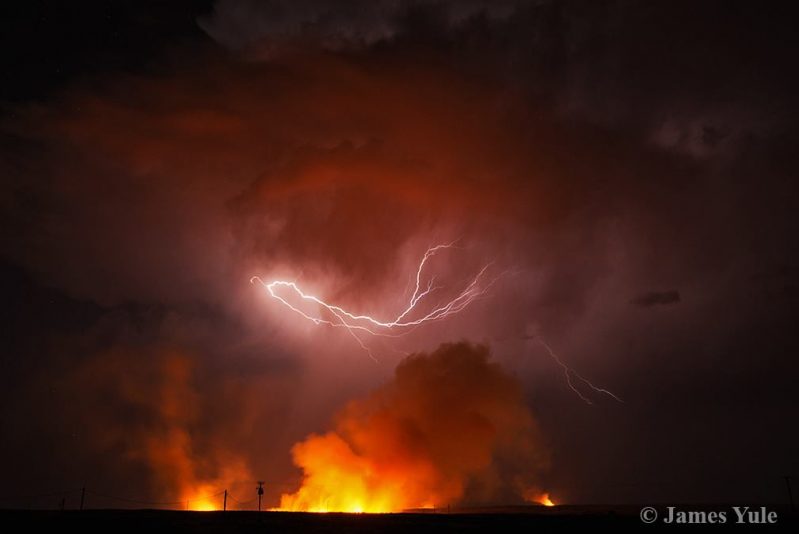 An audio version of this news available here.
As of 7:00 P.M. last night Big Horn County Authorities were reporting that the Terek Fire, burning between Ten Sleep and Hyattville had grown to 47,000 acres, an emergency closure of Highway 31 is currently in effect.
On Sunday night. July 8, a wildfire was reported to the Cody Dispatch Center at 11:02 p.m. Cindy Wertz Public Affairs Specialist with the Bureau of Land Management State Office describes the current situation.
Currently, according to Wertz, not structures or communities are impacted or threatened by this fire.
The fire burned actively Sunday night into Monday morning. Initial attack resources responded immediately and were later aided by aircraft. Four Single Engine Air Tankers, two heavy air tankers, three helicopters and two lead plans are currently working the fire.
Hot temperatures and low relative humidity are driving fire activity and these weather conditions are expected to persist in the coming days. State, county and federal firefighters are working hard to check the growth of the fire. However, dry fuels and hot temperatures remain a challenge.
The BLM did not offer any type of containment estimate as the fire has been burning for a relatively short period of time.
Those searching for the fire on the InciWeb site will not find the fire listed, Wertz told the Big Horn Radio Network why.
Continued smokey skies can be expected and are the result of the Terek Fire according to BLM. In addition, there is a No Fly Zone in the fire area, please refrain from flying drones in the fire area, if there are drones in the air, aerial operations cannot take place.
Big Horn Radio Network will update this story as more information is made available.

A teenager from Texas was killed in an all-terrain vehicle crash in northwest Wyoming.
Park County sheriff's officials say 14-year-old Maximillian Finney, of The Woodlands, Texas, crashed the side-by-side ATV in Crandall on Saturday. The vehicle tipped over and pinned the teenager beneath it as he was driving between two cabins owned by his father.
The Cody Enterprise reports Finney, who was not wearing a helmet, died at the scene.
Investigators say he was driving too fast on the gravel road and began to slide when he crested a hill.
No other information was released.

The Wyoming Secretary of State's Office says absentee voting is now open for the August primary election.
Wyoming allows any registered Wyoming voter the ability to request and then cast an absentee ballot through their county clerk either by mail or in-person at a county clerk's office.
Absentee voting for the Aug. 21 primary began on Friday and continues until Aug. 20.
Requests for absentee ballots may be made to a county clerk's office by phone, email, fax or in person. Additionally, several counties will open absentee polling places that will remain open until the day before Election Day.

PHOTO CREDIT: JAMES YULE-COPYRIGHT(VIA FACEBOOK)

Tags: