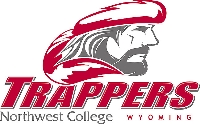 The 2016-17 ledger came to a finish late the past week for the ladies' basketball program at Powell's Northwest College by losing out of state among the quarterfinals in the particular National Junior College Athletic Association Region IX Tournament held from Western Nebraska Community College – the champion and thus top seed of that such South sub-region – at Scottsbluff.
That recent Thursday night, those Trappers – who'd become their specific North's No. 4 seed – fell to the actual tourney-host Cougars 74-70 in overtime.  (NWC had begun its specific postseason for this year by being that corresponding sub-region's No. 6 seed, then moving on with an OT win at higher-seeded North No. 3 Casper College during a pigtail-type play-in game two Friday evenings ago.  Furthermore: WNCC ended up capturing the overall regional crown, advancing to that respective NJCAA National Tournament this month at Lubbock, TX.)
Those Trappers wound up with a total record of 15-17 this campaign.