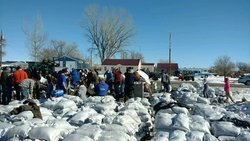 National Guard soldiers from around the region have been instrumental in assisting residents in the Bighorn Basin with this past week's flooding.
Lt. Col. Paul Philips says that on Saturday, the office of Homeland Security contacted the Wyoming National Guard Office for assistance with flooding in Worland, and 70 National Guardsmen from around the region were deployed. Sandbagging was the primary task, focusing on the area around the ice jam in Worland.
When the ice jam broke there, Philips says they were deployed to Manderson, and now are in Greybull.
Col. Phillips gave high praise to the local residents who have volunteered their time to helping the National Guard with sandbagging operations.
The Bighorn County Sheriff's office reports that flood prevention efforts today will center on completing sandbagging operations, continued monitoring of the river and upstream ice jam movements, and continued burning of brush piles on the west side of the river on the north end of town, so residents can expect another smoky day.