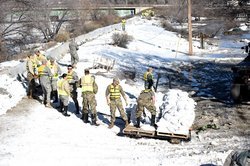 Although a flood warning remains in effect for the Bighorn River between Worland and Greybull, officials in the Basin are breathing a little easier at the moment.
The Red Cross of Wyoming closed its shelter in Worland on Tuesday, as officials are allowing residents to return to their homes. Red Cross volunteers remain in Worland, completing Damage Assessment and providing residents with assistance and information about the resources available to them to help them clean up and recover.
Kelly Ruiz of the Wyoming Homeland Security Office says concerns for flooding have now shifted from Worland to Manderson and Greybull.
However, as of 5 p.m. yesterday, the river had dropped slightly from the measurements taken in the morning. Greybull Town Administrator Paul Thur says they are in a monitoring phase right now.
In addition to placement of sandbags around critical infrastructure in town, the Big Horn County Sheriff's Office says that plans for today include continued sandbagging operations at the ballfield area in Greybull and continued burning of brush piles on the east side of the river on the north end of town starting at 9:00am.
Thur speculated that due to the recent cooler temperatures, the runoff going into the river has been reduced, which is why the water levels have gone down. He stresses that the danger is not over, but since the National Guard is available, they are taking proactive steps.
Volunteers are welcome at the sandbagging operation. If you can help, please contact Chief Bill Brenner at the EOC trailer at the Greybull ballfields to coordinate your volunteering.